Narendra Modi is in election-bound Chhattisgarh today and the stage that he will share with his host Chief Minister Raman Singh is a model of Delhi's Red Fort.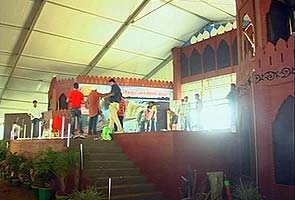 The symbolism is hard to miss. It is from the ramparts of the Red Fort in Delhi that Prime Ministers address the nation on Independence Day.
The Gujarat Chief Minister said this week that he does not dream of being Prime Minister, but many in the BJP hope that it will be Mr Modi who will deliver next year's address from the Red Fort in the national capital. Last month, Mr Modi had challenged Prime Minister Manmohan Singh on August 15 - first saying that his address in Gujarat would draw as much attention as the PM's Red Fort speech, and then making a surprisingly political speech tearing into Dr Singh.
"They have created a fake Red Fort in Chhattisgarh. They might also create a fake RCR (PM's residence in Delhi) to fulfill their aspirations," senior Congress leader Kamal Nath said today in the ongoing war of words between the two rival parties.
But as his party delays naming Mr Modi as its face for 2014 elections, he seemed to send out a reminder when he said on Thursday, "We shouldn't dream about becoming something but doing something. I have been given a mandate till 2017 by people of Gujarat and will continue to serve you."Party president Rajnath Singh and the BJP's ideological mentor, the RSS, are trying to convince Mr Modi's powerful rivals like LK Advani and Sushma Swaraj that it would benefit the party to make a Modi announcement soon.
But these leaders have argued that this is best done after assembly elections in five states including Chhattisgarh, where Mr Modi will campaign today in Ambikapur, about 250 km from state capital Raipur, for Raman Singh, who is seeking a third term.
On Monday, the RSS, BJP and other affiliated outfits will meet to discuss by when Narendra Modi should be projected as the prime ministerial candidate.